***MID-WEEK UPDATES!***
THREE awesome books are on sale now by two of my favorite authors!
Wreckage & Working Fire by Emily Bleeker
Her next book comes out later this month, so read one these now to see if (rather, THAT) you'd like to read her new one!
~~~~
The Vanishing Year, by Kate Moretti
This week's post is a day late, but these deals should make the wait worth it!
Rebooting My Brain: How a Freak Aneurysm Reframed My Life
, by Maria Ross
Funny, touching and real, this book not only shares an inspirational story of transformation but reveals the surprising effects of brain injury…and explores the question, "How do our brains define who we are?"
This is the true story of what happens when you get yanked out of your life by a crisis―and have to get back on the ride all over again. Maria Ross shares how the relentless pace of her life came to a screeching halt when an undetected brain aneurysm ruptured and nearly killed her. Along her stubborn road back to health, her resulting cognitive and emotional challenges forced her―sometimes kicking and screaming―to reframe her life, her work, and her identity.
With humor and heart, Ross shares what it was like being blind for six weeks, how a TV crime drama and a brain-games website played key roles in her recovery, and why a handmade necklace helped her regain her sense of self.
~~~~
I'll Be Your Blue Sky, by Marisa de los Santos
From a
New York Times
bestselling author: After her elderly friend Edith passes away and Clare inherits her old house, she finds two mysterious ledgers hidden beneath the kitchen sink. Edith, it seems, was no ordinary woman—and Blue Sky House no ordinary place. Clare begins to piece together the story of Blue Sky House—a decades-old mystery more complex and tangled than she could have imagined. As she peels back the layers of Edith's life, Clare discovers a story of dark secrets, passionate love, heartbreaking sacrifice, and incredible courage. She also makes startling discoveries about herself: where she's come from, where she's going, and what—and who—she loves.
Get I'll Be Your Blue Sky for $1.99
~~~~
The House at Tyneford, by Natasha Solomons
Fans of Downton Abbey will love this sweeping New York Times bestselling historical novel of love and loss.
The start of an affair, the end of an era.
It's the spring of 1938 and no longer safe to be a Jew in Vienna. Nineteen-year-old Elise Landau is forced to leave her glittering life of parties and champagne to become a parlor maid in England. She arrives at Tyneford, the great house on the bay, where servants polish silver and serve drinks on the lawn. But war is coming, and the world is changing. When the master of Tyneford's young son, Kit, returns home, he and Elise strike up an unlikely friendship that will transform Tyneford—and Elise—forever.
The House at Tyneford is on sale for $1.99
~~~~
Driftnet, Torch, and Deadly Code, by Lin Anderson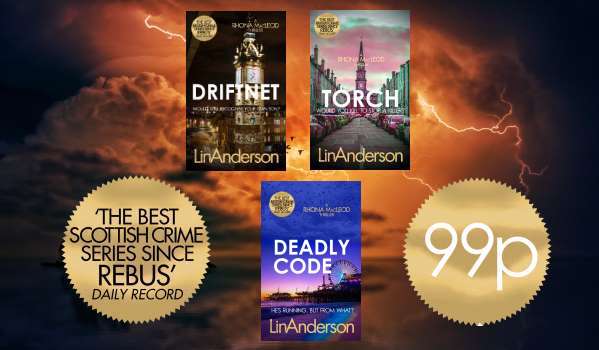 "A crime series as addictive as crack."
Forensic Scientist Dr. Rhona Macleod Series Books 1 & 2 only $2.99 each.
Book 3 only 99 cents!
In you live the UK, each title is only 99p.
Check out the first three books on sale:
DRIFTNET
($2.99)
TORCH
($2.99)
DEADLY CODE
(99 cents)
~~~~
The Lonely Life: An Autobiography, by Bette Davis
Originally published in 1962 and updated in the 1980s to bring the story up to the end of Bette Davis's,
The Lonely Life
is the legendary silver screen actress's riveting account of her life, loves, and marriages
—
now in ebook for the first time, and updated with an afterword she wrote just before her death.
Read about her Yankee childhood, her rise to stardom in Hollywood, the birth of her beloved children, and the uncompromising choices she made along the way to succeed
—
all the heartbreak, all the drama, and all the love she experienced at every stage of her extraordinary life.
By the incomparable Bette Davis.
Her autobiography is on sale for $2.99
~~~~
Hunting Hour, by Margaret Mizushima
Deputy Mattie Cobb is in a dark place and has withdrawn from Cole Walker and his family to work on issues from her past. When she and her K-9 partner, Robo, get called to track a missing junior high student, they find the girl dead on Smoker's Hill behind the high school, and Mattie must head to the Walker home to break the bad news. But that's only the start of trouble in Timber Creek, because soon another girl goes missing—and this time it's one of Cole's daughters.
Knowing that each hour a child remains missing lessens the probability of finding her alive, Mattie and Robo lead the hunt while Cole and community volunteers join in to search everything—to no avail. It seems that someone has snatched all trace of the Walker girl from their midst, including her scent. Grasping at straws, Mattie and Robo follow a phoned-in tip into the dense forest, where they hope to find a trace of the girl and rescue her alive. But when Robo does catch her scent, it leads them to information that challenges everything they thought they knew about the case.
Get Hunting Hour for $1.99
~~~~
Broken Angel (Chronicles of a Supernatural Huntsman Book 1), by Alex Apostol
THE THINGS THAT GO BUMP IN THE NIGHT ARE REAL.
When Kamlyn was nineteen and seven months pregnant, her parents died in a car accident. When she was twenty-four, and her son was five years old, he was murdered before her eyes by a cloaked figure in the middle of the night.
When a mysterious neighbor sees her weeping on the sidewalk, he picks her up and introduces her to a new world. She goes with him to the Chamber of Darkness, an underground society, where she learns to fight evil beings and creatures as a Huntsman. Her sole motivation to complete her training is getting revenge on the demon that killed her little boy.
But while she's there, she realizes there are other beings that threaten the way of life on earth. Prophetic dreams reveal there is a mysterious traitor in the Chamber's headquarters and he's trying to get his hands on a goblet that will open the portal to the demon world, unleashing them all on the humans.
Get Broken Angel, the first book in the series for FREE.
~~~~
Disclaimer: If I find new deals throughout the week after the post has gone live, I'll update it and note anything new. As always, the responsibility to confirm any price before purchase is up to the reader. Titles listed in deals posts may or may not be ones I've read, and determining what books are right for you, including any content issues, is also the reader's responsibility. Posts include Amazon affiliate links.