Update: If you tried to enter Sherrie's giveaway but couldn't get the comment form to work, try the new link below!
My first contact with
Sherrie Shepherd
was through her blog. I
think
 I found her through
Motherboard
, but I don't remember for sure.
She is an absolute doll. Extremely talented, gorgeous, skinny, and even a marathon runner. (And I love her anyway! You can't avoid adoring Sherrie.)
My first contact with her music was when I was looking for something to use on my book trailer for
Tower of Strength
. 
All the free music sites I was listening to just didn't hit the spot, and some other sites I found just had bad recordings. Nothing quite worked. And then Sherrie gave me permission to use her arrangement of "Come Thou Fount/If You Could Hie to Kolob" on the trailer (it's cut short on
 the trailer, but it'll give you an idea):



Bingo. It was perfect. I became an immediate fan.
I pre-ordered her new CD of inspirational piano solos,
Solitude.
 Thanks to her pre-release promotion, I got to download the sheet music of one piece, "On the River." My son is the best pianist in the house, and he was thrilled to get it. (The piece has lots of triplets, which will provide just the right challenge for him.)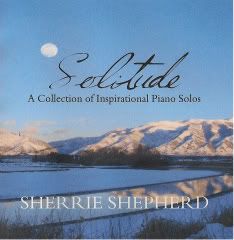 When my copy of the CD arrived the other day, I popped it into the CD player. No joke here: within seconds, all four of my kids were gathered around, sitting on the floor, listening intently.
My son went on about how he wants to learn to play them all. He also wants to put the songs onto his iPod.
Next child down, a daughter, said the same thing about wanting to play the music herself (she might be a couple of years away from that level, though). I promised that when Sherrie releases a book with all the sheet music, we'll be sure to get a copy.
Next daughter raved: "That is so pretty, Mom! Let's listen to
all
 the songs." (She then proceeded to look over the list and keep changing the one we were listening to. "Let's try this one! Okay, now this one!") I had to stop her and say, "Let's just listen to the whole CD straight through, k?"
Meanwhile, my youngest was happily swaying to the music. She's six, and even she was enthralled.
Let's just say it was a hit in the Lyon household.
Sherrie's doing  a 
blog giveaway
 where you can get up to NINE entries. So hop to it!
If you win, give the CD as a gift. Because you
know
you're going to want to BUY one for yourself anyway!