Somewhere around third grade, I had dreams of the perfect Halloween costume. I wanted to be a magical fairy princess, you know, the kind that flits around like a glowing orb on her gauzy wings and bestows wishes?
Something elegant, mystical, and beautiful. Something like this:
When explaining what I wanted, I made the mistake of telling my mother, seamstress extraordinaire, that I wanted to be
a fairy godmother.
My bad. My really, really bad.
Mom took me at my word. She sewed up a costume that looked remarkably like this: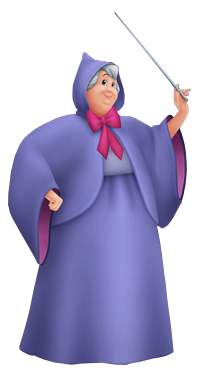 Yep. That year I wore a giant purple tent with a hood. I don't recall having a maroon bow or two colors of purple, though. Just the lavender tent.
It was totally my fault, because I didn't explain it well enough, and all Mom had to go by was the only fairy godmother she'd ever seen. And by golly, I did look like Disney's overweight matron. All I needed to round out the image was an extra fifty pounds, white hair, and dentures.
Mom was thrilled with my choice, because the costume was giant enough that I could wear my winter coat under it and thus keep warm while trick-or-treating.
From my perspective, with the coat I looked like Violet Beauregarde from
Charlie and the Chocolate Factory
after she turns into a blueberry. Awesome!
I had a wand of some kind, but no one noticed it. At every door, I was asked what I was supposed to be.
No one asked Sheryl, who I went door to door with that year. She had a perfect Little Bo Peep outfit, complete with pantaloons and a shepherd's crook.
After all the work she put into it, I never had the heart to tell Mom that I hated that costume. Nay, I loathed it. (But she reads this blog sometimes. Hi, Mom! Sorry!) And to be fair, I had awesome costumes other years, like Winnie the Pooh in second grade (which Mom also made—she worked her fingers to the bone on that sewing machine regularly for us kids), and I was an awesome gypsy the year before that.
But the fact remains that on that Halloween, I learned a valuable life lesson:
If your request isn't specific enough, you can't complain when someone does exactly what you asked them to!